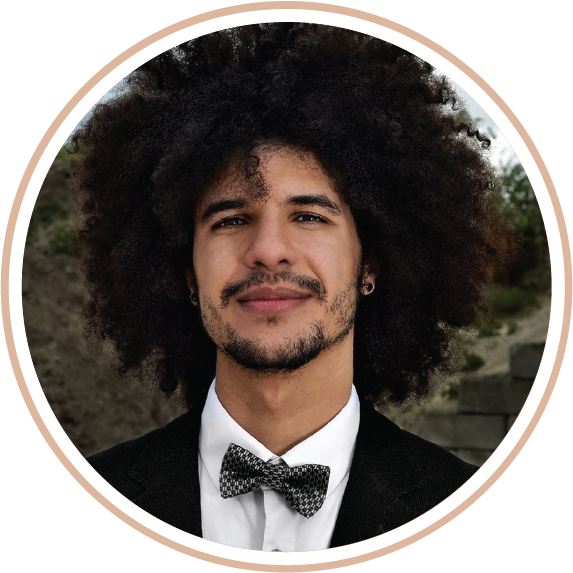 B-visual photography
My name is Benaissa El Yamani and I have been active as a photographer for over 10 years. In 2018 I established B-visuals. I have always enjoyed working with people. The social contact, the interaction, the personal stories and the emotions ensure that I enjoy working. Photography has literally come my way. And photographing people appeals to me most. Bridal photography, a family portrait, New Born shoot or company photos: no shoot is the same and that makes the work very dynamic and versatile for me. As a photographer I am very enthusiastic about capturing spontaneous and playful moments.
Read more
In my spare time I often go out with my camera to take pictures. Here I can express my creativity and so I continue to find inspiration. As a photographer, I am always keen on what's going on around me. By using what is available in the environment, each photo is different and innovative, but also tells its own story. My goal is that the photos I take will take people back to that one moment. Memories, smells, music, people, sounds, everything comes back when you see that one photo.

I also use professional lighting and flashes. I like to play with light and composition, so that elements in a photo can be beautifully highlighted and an artful and artistic effect is created.

Besides photography, I love traveling to see as much of the world as possible, motorcycling, fresh mint tea with lots of sugar, Maltesers, Korean pop music, fashion and tiramisu.
Service
What you can expect from me is that I think along as best I can in the wishes that are there. I take a flexible approach and we discuss the options together. This is also possible during a non-committal conversation where the coffee and tea is ready with some sweets. During the shoot we take the time to take good quality photos. I think it is important that everyone feels comfortable and that we do not rush. After the shoot it is possible to select the photos together. The selected photos will be delivered in high resolution in both color and black and white via WeTransfer. Are there any questions in between? Feel free to call, email or app. I am satisfied if you are satisfied!
Ik vind dat fotografie niet zomaar een product is maar ook een ervaring. Mijn werkwijze in ook zo ingericht dat je er nog jaren een glimlach aan overhoud.

We make an appointment and discuss the wishes
We are going to shoot with a scheduled date
We use the raw photos creatively  
You get the pictures as we discussed
Via de offerte tool kunt u zien wat ongeveer de prijs gaat worden van de fotoshoot. De tool gebruiken we om een indicatie te geven van de prijs. We nemen contact met u op om uw wensen te bespreken en om een definitieve prijs op te stellen. Neem gerust contact op voor vragen.
The costs of a shoot vary and depend, among other things, on the duration of the shoot and the number of photos that are delivered. Look at the heading rates for more information.
2
What should I wear during a shoot?
Of course it is important to choose clothing that you feel comfortable with. It depends on what the photos are taken or used for. Neat clothing is chosen for business photos. With a family portrait it can be good to match the colors in advance, so that it fits nicely together. In addition, it depends on whether studio photos are taken or whether photographs are taken on location. We often coordinate the location and choice of clothing in advance. It is also possible to take several sets of clothing with you.
3
How long does a shoot take?
During the shoot we take time to take beautiful pictures and we do not rush. The duration of the shoot depends on the type of shoot we are going to do. A portrait shoot takes about 1 hour. A family shoot takes about 1-2 hours. With wedding photography you can choose between different packages that include the number of hours of photography and the number of photos.
4
When can I expect the photos?
This depends on whether the photos are taken in low season or high season. In the summer months it is often busy and it may take a little longer for the photos to be ready. I think it is important to deliver a beautiful and high-quality end product, and care takes precedence over speed. We always agree in advance when you can expect the photos.
5
Where can we take the photos?
In principle, photos can be taken anywhere. I have a mobile studio, which also makes it possible to take studio photos in your own home environment. I drive all over the country with the B-visuals car. I like to take pictures in different locations. You can always indicate your own wishes for locations that appeal to you or that you are interested in. Of course I think along with you in this.
6
Are those curls real? Do you have a lot of work?
I often get questions about my hair. Is it real or is it a wig? My hair is 100% real and to my girlfriend's jealousy I don't have to do much about it. I owe these beautiful curls to my Moroccan roots. You can touch my hair if I can touch your hair too.